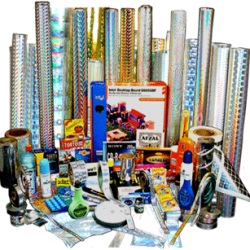 What is Holography ?
Holography is an image registered with use of coherent laser light. It allows to preserve the 3-D information of a holographed subject. With a single source of white light, the image is "played back" and appears in 3-D exactly as it was registered in the studio. Image can project deep inside, or "stick" out of the picture. Virtually impossible to copy and displaying unique visual effects, they present themselves as an unbeatable security solution for brand protection and brand promotion.
Why Holography ?
Holography has also becomes mean to prevent duplication and to provide brand protection from counterfeiting. Anti-counterfeit protection can secure your products form duplication.
Holographic BOPP Lamination Film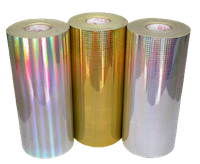 We offer a wide range of holographic packaging films on Polyester, BOPP & PVC. These are commonly used for flexible packaging, decoration, lamination on paper and Board. Holography has also become a means to prevent duplication and to provide brand protection. For security application, we can provide holography in all the main holographic formats and in customized designs.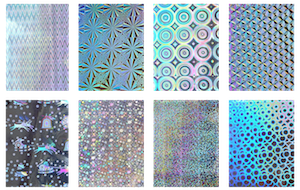 Holographic films are micro-embossed with a holographic image or pattern. The embossing process creates a pattern or an image which can provide a 3-D effect and spectral coloring. The embossing process is like cutting tiny grooves into the surface of the film at various angles and in different shapes. The micro-grooves cause the diffraction of regular white light into spectral coloring
Holographic Hot Foil Stamping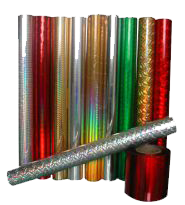 Hot-Stamping Foil is a Multi-Layered Film. Generally, it starts with a 20 Micron Polyester carrier coated with a waxy release layer, then a special coating with the top coating layer to impart resistance to whatever hostile environment, the foil will be exposed to. This coating protects everything beneath it. Beneath the top coating is the emboss able coating which receives the embossing of image. The material is then metallized by vacuum deposition of aluminum layer.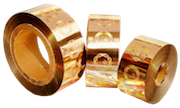 Advantage to select Holographic Hot Stamping is for Security and Brand protection. Selection of holographic hot stamping transfer products for use is on a wide range of substrates and application equipment. General design holographic hot stamping is available in silver, gold, green, blue,red and many other colors. We can also make customize design holographic hot stamping Foil.
PET Holographic Polyester Film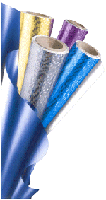 Using polyethylene as carrier, holographic PET film can be used for very wide applications because of its excellent mechanical and chemical properties, as well as its dimensional stability. It is an ideal material to make flexible packages as the metallized layer creates a great barrier to oxygen, light, and moisture and as a result prolongs product shelf life substantially.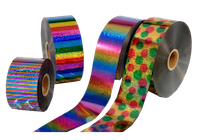 On the other hand, it can be laminated to cardboard to make fabulous packages that create great shelf presence. It can also be cut into glitter powder or yarn, or used to make stationery and toys such as adhesive tapes, stickers, or used as varnishing film.
Holograms Security Labels and Stickers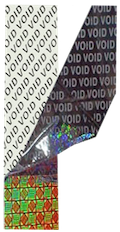 Moonlight is dedicated to providing manufacturers and consumers with the highest level security for products, packaging, and documents. Our self-adhesive tamper-evident security hologram labels and ID holograms provide security, authentication and protection against counterfeit. Our manufacturing processes utilize the latest security technologies and techniques, thus making it virtually impossible for counterfeiters to create fake products or forge documents protected by holograms.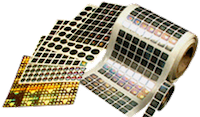 Holograms have become a major tool to prevent counterfeiting. The most significant aspect of security hologram is that – once applied to the desired surfaces these cannot be removed undamaged. Attempts to tamper with or to remove the hologram results in separation of the upper layer of the holographic film from the holographic image. These holograms are widely used in packaging applications.


Available in a wide range of colors & shapes, we also design & manufacture these holograms as per the customer specifications. We offer selective release VOID tampers as well as customized releases.