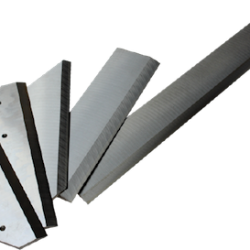 Guillotine Knives
Standard Knife : Suitable for printers that require quality knives at competitive prices.
High Speed Steel (HSS) Knife: This is the knife for continuous high volume production, or if you are cutting board / abrasive paper (i.e. coated paper)! It should give more than twice the life of Normal knife.
Tungsten Carbide (TCT) Knife : When the blade life between sharpening is a major factor, choose this knife. Not only should it give you a longer production run before sharpening, but less material is normally removed from the cutting edge during the sharpening process resulting in increased blade life. This blade should give more than twice the life of a HSS Knife.
| | |
| --- | --- |
| Machine Type | Knife Size |
| Campeador 72 | 830 mm x 100 mm x 8 mm |
| Challenge 30 1/2″ | 882.65 mm x 101.6 mm x 9.5 mm |
| Challenger 92 - | 1080 mm x 127 mm x 12.6 mm |
| Como 115 | 1371.6mm x 127mm x 12mm |
| Gergek 115 | 1390mm x 140mm x 12.5mm |
| Herold 83 | 1035 mm x 90 mm x 9 mm |
| Ideal 4850 | 570 mm x 90 mm x 10 mm |
| Ideal 6550 | 756 mm x 90 mm x 10 mm |
| Lawson 42 | 1346.2 mm x 127 mm 12.6 mm |
| Lawson 52 | 1625.6 mm x 127 mm x 12.6 mm |
| LMM 107 | 1280 mm x 120 mm x 11mm |
| LMM 72 | 915 mm x 90 mm x 9mm |
| Maxima 115 | 1320 mm x 150 mm x 12 mm |
| Maxima 80 | 960 mm x 140 mm x 10 mm |
| Maxima 92 | 1090 mm x 150 mm x 12 mm |
| Nebiolo 107 | 1320 mm x 140 mm x 12 mm |
| Nebiolo 76 | 965 mm x 120 mm x 10 mm |
| Nebiolo 87 | 1040 mm x 130 mm x 11 mm |
| Nebiolo 90 | 1140 mm x 120 mm x 10 mm |
| Nebiolo 90 | 1140mm x 120mm x 10mm |
| Perfecta 78 | 960 mm x 128 mm x 9 mm |
| Perfecta 83 | 995 mm x 132 mm x 10 mm |
| Pivano 103 | 1317 mm x 145 mm x 12 mm |
| Pivano 112 | 1412 mm x 143 mm x 10 mm |
| Pivano 118 | 1587 mm x 145 mm x 13 mm |
| Pivano 125 | 1587 mm x 145 mm x 13 mm |
| Pivano 76 | 1005mm x 120mm x 10mm |
| Polar 115 | 1390 mm x 160 mm x 13.75 mm |
| Polar 150 | 1720 mm x 160 mm x 13.75 mm |
| Polar 72 | 868 mm x 104 mm x 9.7 mm |
| Polar 80/82 | 990 mm x 107 mm x 11.7 mm |
| Polar 80/82 | 990 mm x 107 mm x 9.7 mm |
| Polar 90/92 | 1095 mm x 115 mm x 11.7 mm |
| Schneider 82 | 1020 mm x 133 mm x 9.95 mm |
| Seybo l54 | 1549.4mm x 127mm x 12.6mm |
| wohlenberg  115 | 1380 mm x 125 mm x 12 mm |
| wohlenberg  76 | 900 mm x 100 mm x 9.95 mm |
| wohlenberg  92 | 1100 mm x 125 mm x 12 mm |
| wohlenberg 150 | 1720 mm x 140 mm x 14 mm |